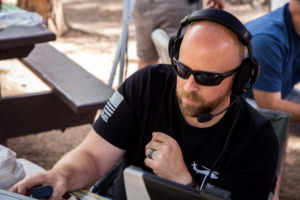 In recent weeks, I noticed that the glory and majesty of the Colorado evenings have started to come a bit earlier in the day. The temperatures in the morning and the evening have started to show crispness and it is easy to tell that there is change in the air. As we close out the month of September and enter October, we are 75% through the year 2022 already. With Summer giving way to Fall and Fall will quickly give way to Winter, this is the time of year that I get more attentive to outdoor coax and antenna condition and upkeep. At the same time, too, being 75% of the way through the year is not just an indication of another year closing, but optimism can reign supreme with the relief that we still have 25% more to go!
As I reflect back on the activities and accomplishments of the PRA in 2022, I am amazed at not only our membership growth (now over 255 members), but the shear variety of events that allowed each member an opportunity to be ambassadors to the amateur radio service. From several Portable Ops Group "deployments," to Wings-Over-the-Rockies special events, to Elmer Nights, and Field Day, these are just a few of the more public and on-display activities. Equally important is the work that goes on behind the curtain in our various committee work. Whether we're welcoming new hams or new members, Elmering and encouraging a strong learning environment, launching a remote station, or working on the continuous improvement of our repeater infrastructures and website…the list is impressive. Most impressive is the amount of time, talent, and treasures that individual and collective members give to pull this off every week, every month and every year. There is no way that any of this would be possible without those elements of time, talent and treasures given towards the greater common good of the amateur radio service. For those that give some and for those that give a lot, THANK YOU for the amazing work you do routinely.
As we continue with momentum in the last quarter of 2022, your PRA is active, participatory, and strong. If you have not had a chance to get involved in some way, we encourage you to take that leap of faith and trust your own talent and treasures. You never know how your insight can be changing to the organization. With 25% more time to go in 2022, you have ample time to showcase your talent and treasures as an ambassador to the amateur radio service and the PRA.
73,
Dan – N2SRK
President
Parker Radio Association