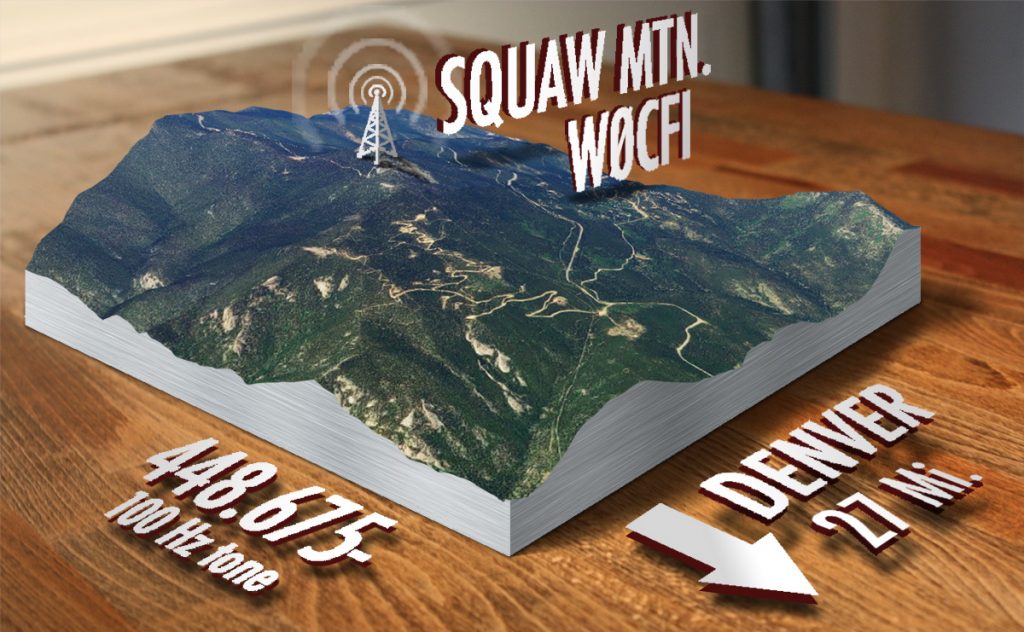 Analog Repeaters
W0CFI: 448.675 -5MHz offset 100Hz tone. Wide area coverage on Squaw Mountain.
K0PRA: 449.425 -5MHz offset 100Hz tone. Local coverage in Parker on the "water tower".
Digital Repeaters
K0PRA DMR: 445.075 -5MHz offset dual timeslot Motorola TRBO repeater. DMR Timeslot 2 linked to BM 310844 .
K0PRA DSTAR: 446.850 -5MHz offset ICOM DStar Stack. (Currently down due to tower problems)
N0KEG VHF MMDVM: 147.315 +600KHz offset. Pi-Star based MMDVM repeater running dual mode DSTAR and DMR. DSTAR is linked to XLX376-D. DMR Timeslot 2 is linked to BM 310844
N0KEG UHF MMDVM: 448.050 -5Mhz offset. Pi-Star based MMDVM running DMR only. DMR Timeslot 2 linked to BM 310844.
Please see the dashboard links below for more information on the digital machines.
Parker Local Transcoder Network
Access to the Parker Local system is available via DMR or DSTAR.
You can access the Parker Local system via Brandmeister DMR talk group 310844. This talk group is statically linked to time slot 2 on the K0PRA DMR Repeater.
You can access the Parker Local system via DSTAR on DCS376-C. Feel free to link the VHF N0KEG or UHF K0PRA machines to DCS376-C to access the Parker Local system.
Colorado Link Transcoder Network
Reflector Dashboards:
Repeater Dashboards:
Link Methods
Depending on your hardware, you can link into the Colorado digital system via several different options.
DStar:
DExtra (XRF) linking is supported via XRF223-B and XRF720-C.
DPlus, DCS and DExtra linking is supported into the transcoder on module D (REF376, DCS376 or XRF376). If linking directly to the XLX server via DStar, DCS is recommended. XRF has issues with some hotspot devices.
Any DStar repeater that supports dynamic linking on the IRCDDB and Freestar networks can be linked to DCS376, XRF223 or XRF720 for access.
If you'd like to do a reflector to reflector link, this is supported via XRF or XLX on the XLX376 server. Please contact N0KEG for details.
DMR:
Link via Brandmeister master servers and use talkgroup 31082.
If your hotspot supports XLX master servers, you can link directly into XLX376 and transmit on TG6 to access the system.
Some Brandmeister connected repeaters such as the PRA machine will have dynamic access on timeslot 1. Attach that timeslot to Talk Group 31082 for access to the linked system.
Wires-X/C4FM:
Access the linked system via Wires room 40052 – Colorado-Lnk
Access via YSF Reflector US COLORADO-LINK 39906.
Scheduled DMR Linking on K0PRA/R Time slot 1
Monday 6pm to 12am – Linked to 31082 for the Colorado Link Net
Thursday 6pm to 12am – Linked to 31653 for the KC2RC Net
Friday 6pm to 12pm – Linked to 31088 for the NoCo Hotspot Net
Saturday 6pm to 12pm – Linked to 31082 for no apparent reason, rag chew it up!