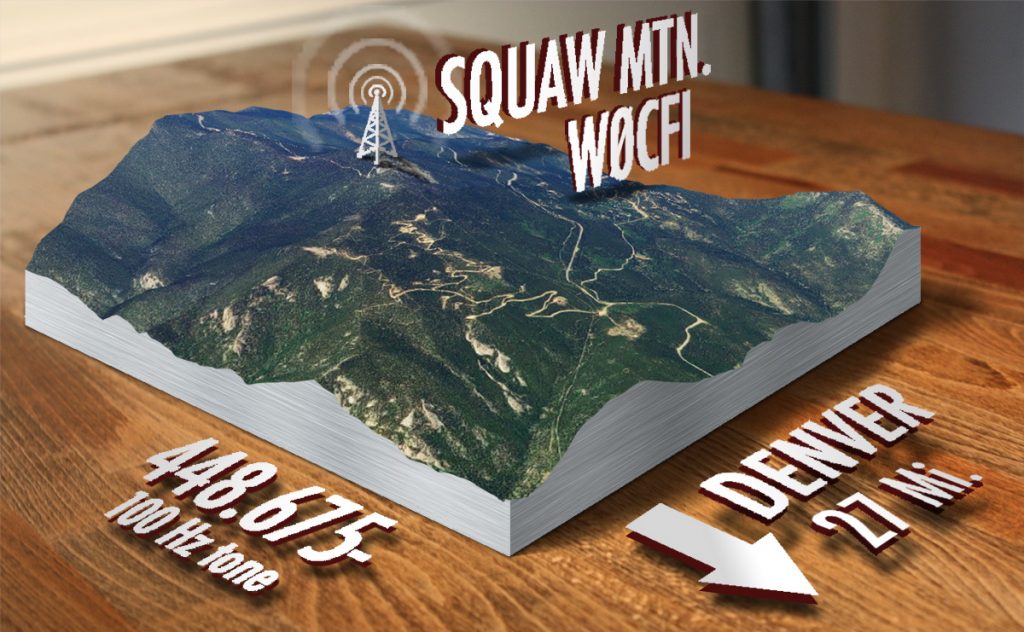 Analog Repeaters
W0CFI: 448.675 -5MHz offset 100Hz tone. Wide area coverage on Squaw Mountain.
K0PRA: 449.425 -5MHz offset 100Hz tone. Local coverage in Parker on the "water tower".
AllStarLink Node 410460
What's AllStarLink? In simplest terms, it's a way to connect analog repeaters and/or radios over the Internet. In operation, it's actually quite similar to the DMR/DSTAR/C4FM digital modes you're probably already familiar with. The key difference is, the digitizing of your voice doesn't happen inside your radio, it happens inside an AllStar node – a bit of hardware connected to the repeater and the Internet. Another difference is, unlike the "talkgroups" / "reflectors" / "rooms" we connect into in the digital modes, in AllStarLink, every node itself is connectable. In other words, every AllStarLink node is a talkgroup! If this made your eyebrow rise, it should. With great power comes great responsibility. There are AllStarLink nodes that literally have 100+ other linked nodes. Imagine the firehose of traffic linking to that beast would bring!
So, how can you use this? Let's say you've got a friend in Kona, Hawaii that uses the NH6M analog repeater, which is also AllStarLink node #28377. Hop over to the PRA AllStarLink Hub page and connect node 28377 to our hub. Because our K0PRA "water tower" repeater is already perma-linked to the hub, all you have to do is switch your analog radio to K0PRA and make a call for your friend. All K0PRA repeater traffic will be duplicated on NH6M and vice versa. When your QSO is finished, hop back over to the hub page and disconnect 28377. Easy!
Our AllStarLink system runs a "hub and spoke" model where spokes may be permanent links to nodes deployed on our own analog repeaters or semi-permanent simplex nodes deployed by hams to provide analog coverage to their own neighborhoods. The PRA AllStarLink hub fully supports inbound and outbound linking world-wide. PRA members can manage hub links via the PRA AllStarLink Hub page.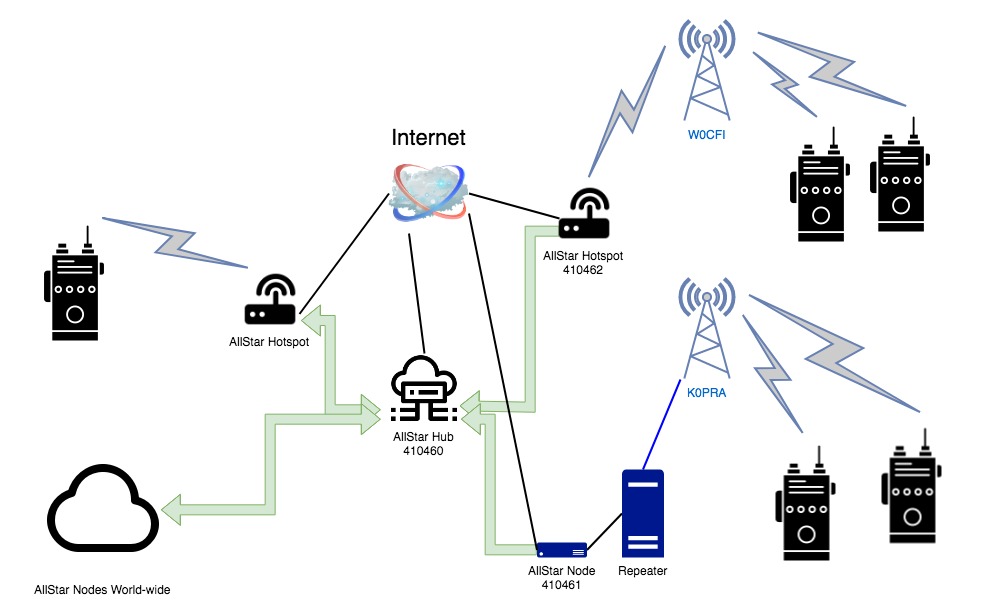 Digital Repeaters
K0PRA Pinery DMR: 445.075 -5MHz offset. Time slot 1 linked to BM 310759. Time slot 2 linked to BM 310844 .
K0PRA Smoky Hill DMR: 448.050 -5MHz offset. Time slot 1 linked to BM 310759. Time slot 2 linked to BM 310844.
K0PRA Elizabeth DMR: 447.300 -5MHz offset. Time slot 1 linked to BM 310759. Time slot 2 linked to BM 310844.
K0PRA Lone Tree DMR: 447.075 -5Mhz offset. Time slot 1 linked to BM 310759. Time slot 2 linked to BM 310844.
K0PRA DSTAR: 446.850 -5MHz offset ICOM DStar Stack. Default link is DCS376-D.
N0KEG VHF MMDVM: 147.315 +600KHz offset. Pi-Star based MMDVM repeater running dual mode DStar and Fusion. Default link is to Colorado Mega YSF and DCS376-A for DStar.
Please see the dashboard links below for more information on these digital machines.
Parker Local Transcoder Network (TG 310844 / DCS376-A)
Access to the Parker Local system is available via DMR or DSTAR.
You can access the Parker Local system via Brandmeister DMR talk group 310844. This talk group is statically linked to time slot 2 across the K0PRA DMR repeaters.
You can access the Parker Local system via DSTAR on DCS376-A. Feel free to link the VHF N0KEG or UHF K0PRA DSTAR machines to DCS376-A for access to the Parker Local system.
We are currently experimenting with a link to another transcoder on this module. On Thursdays this module will be linked into XLX369 which is the home of the KCRC Digital System. KCRC is the Kings County Radio Club in Brooklyn, NY. They hold a digital net on Thursday nights. Due to the minimal use we see on the Parker Local 310844 talk group, I thought it would be neat to link it into another system's net. The KCRC guys are an awesome bunch who actively experiment with digital modes much like we do.
Colorado Mega Reflector (TG 310759 / DCS376-D)
Access the Colorado Mega system via DMR, DSTAR, C4FM or Wires-X.
You can access the Colorado Mega system via Brandmeister DMR talk group 310759. This talk group is statically linked to time slot 1 across the K0PRA DMR repeaters.
Many Brandmeister connected repeaters allow dynamic access on time slot 1. Attach that time slot to Talk Group 310759 for access to the linked system. Please respect repeater operator's rules for linking.
Pi-Star DMR hotspot users should optimally use DMRGateway mode connected to XLX376 and transmit on TG6 to access the system.
DSTAR clients capable of DCS should link directly to XLX376-D to reach the Colorado MEGA system.
Older DSTAR clients that must use XRF should go through XRF223-B or XRF720-C.
Wires-X repeater, node and PDN users: Link your device to the Colorado Mega 40895 Wires-X room.
Yaesu C4FM radio users via a hotspot (Pi-Star, Openspot, etc…), change your YSF Reflector to 23160.
Reflector Dashboards:
Repeater Dashboards:
Colorado Mega Reflector Tips and Tricks:
Let the system drop – At any point in time there are no fewer than 10 devices linked together. Some on the internet, some via RF. The latencies amongst all of these links can vary from 10s or 100s of milliseconds and in some cases a full second or two. After hearing a transmission, don't quick key the system like you would on a single analog FM machine. All of the devices involved need to completely drop. If all the links don't get a chance to drop, you may only re-key half the system or none of it at all. Be patient and let the system drop for a full 1 to 2 seconds before replying to a QSO or during busy times like net check-ins.
Let the system come up – The opposite is also true. The system needs ample time to key up 3 different digital modes on dozens of machines. After the key-up command makes it to a particular device, the RF transmitter on these machines need a few hundred milliseconds to settle down and make a clean transmission. So when keying up the system, key the mic and count 1-mississippi in your head before actually speaking. This will prevent the 1st part of your transmission from being cut off.
Use ITU standard phonetics during check in – In the event of some packet loss across a link, letters like V T and E will all sound the same. Victor, Tango and Echo will sound much different. Please use standard phonetics when checking into nets on a linked digital system.
Brandmeister – The vast majority of the time, traffic between the Colorado Mega system and Brandmeister will go through Master Server 3108. In order to keep points of failure to a minimum, if coming through Brandmeister connect your hotspot to 3108. There are known performance issues between 3108 and some other BM master servers.
Link directly to the Mega System – Whenever possible, your best performance will come from linking directly to the Colorado system.
Register a DMR ID – Even if you are using a mode other than DMR, the DMR ID database is used for call sign lookups on the dashboards and call routing. It's free and easy to register a DMR ID to be linked to your call sign. Visit https://www.radioid.net/register#! for more details.