Topic starter
July 26, 2022 10:18 am
I was looking for a resonant antenna for SOAT/POTA that would match my (tr)uSDX transceiver. 
Heard about this little guy on the DL2MAN forum, I think. 
This is a kit from K6ARK, about $20. It's about as small as you can make a matching transformer, just a bit bigger than the BNC connector. I built it as a multiband EFHW using 22GA poly stealth wire. 
It tunes great on 40m and 20m, less than 1.5:1 SWR across each when I set it up as a sloper in the back yard. 
You can build the same kit into a 1:1 Unun or a random 9:1, just wind the toroid differently. 
I'm throwing it in a smaller go-bag with the (tr)uSDX so I can run straight without a tuner and maybe less effort than my QRPGuys vertical.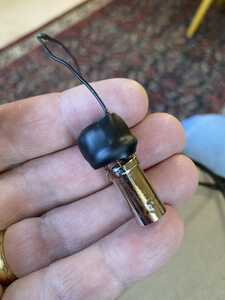 Topic starter
July 29, 2022 6:44 pm