How about a 3D Printed CW Bug??
Topic starter
October 17, 2022 10:12 am
I saw this on the Interwebs and thought I'd give it a whirl. I've always wanted to try a bug.
Not having a good feel for which bugs are the 'ones' to go after, I never dabbled.
After recently picking up a 3D printer, this looked like a great project to try.
There are around two dozen pieces total. You can use an old AA battery tray for the lever contacts. I had 3mm screws and a 3.5mm audio jack in the parts bin.
I printed most of the parts in PLA, and used nGen for the lever.
This thing works great! A little finicky to adjust, as the screw threads are pretty coarse. And it's a little 'spongy' due to the flex of the plastic lever. I've played with the weight and had it running from around 20WPM to 30WPM. To get it to slow down below 24WPM, I added a couple of small screws to the weight. 
If you plan on whipping one up, grab some lead for adding to the base - it's too light without.
What a fun project!
Thanks to Pat - ISØFQK for designing and offering up the .stl files.
73, and keep the squelch loose.
Mike - ADØWB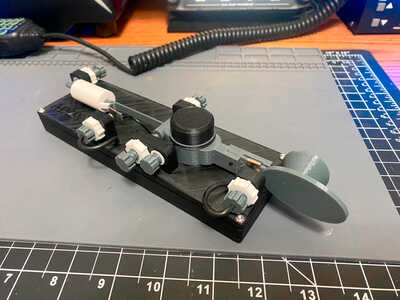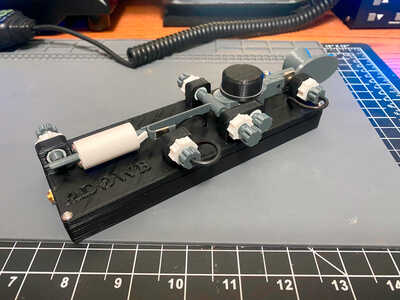 November 12, 2022 12:00 pm
Mike - that turned out amazing!  Nice job!