HamClock Build
A few years ago, QST published an article written by Elwood – WB0OEW (QST, Oct 2017) about a cool little device built on an Arduino. A HamClock. This thing looked so cool, I just never got around to building one.
What is it you ask? What does it do? Wow, it does all kinds of neat things for hams. HamClock is a clock specifically for amateur radio operators. It shows Zulu time, your local time, your grid square, and a really nice graphical display of the earth showing current grey line. It shows current solar activity. It can show amateur satellite orbit information. You can even click on the map and it will provide propagation prediction from your location to a DX location, along with short path and long path distance and azimuth. I'm sure I missed some of what it can do. But it is super cool!
There are plenty of options should you choose to build one for yourself. I chose to build one using a Raspberry Pi. I ~think~ just about any Pi could work, however I used a new Pi4 for mine. You can set them up to display on an old monitor you have, or you can set it up for a small dedicated display. I chose a 7" Raspberry Pi Touchscreen as I have very limited desk space.
Raspberry Pi's run Raspbian for their operating system – which I guess is a version of Linux. I followed the instructions at www.raspberrypi.org/downloads to put the OS on a MicroSD card. Popped it in the Pi, fired it up and followed the prompts to get it on my network, and onto the Internet. Depending on which Pi version you have, accessing your network may vary (ie WiFi, Ethernet).
Once there, I navigated to www.clearskyinstitute.com/ham/HamClock where I obtained the program itself. For a Raspberry Pi version, look for the 'Desktop' tab. It may look a little daunting at first, but don't worry. It really is easy. All of the commands are written there for you. All you need to do is open a terminal and copy/paste the commands provided. Just follow the prompts and you should be in business.
I'll be the first to admit I am not very knowledgeable about Linux. But it was ~really~ easy to get it up and running. I run it in a window, and just drag the menu bar up off the screen, so it looks like a full screen application. Oh, I did add xScreensaver to control the screensaver on the Pi (actually, I shut it off).
Special thanks to Elwood – WB0OEW for providing us with this great program!
I'm sure, like anything computer related, there are probably several ways to run a HamClock. This is how I did it. If you feel adventurous, give it a whirl! If you have a Pi lying around gathering dust, and an unused monitor, you're all set! Even if you go out and buy the hardware, you'll probably be able to pull it off for a hundred bucks or so. Go for it!
73, and keep the squelch loose.
Mike – AD0WB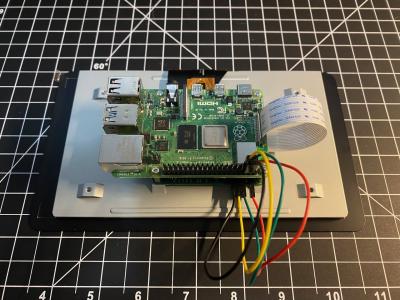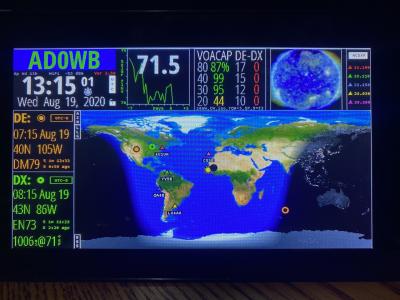 I put this on a new Raspberry Pi I purchased, and it is awesome.  More information than I know what to do with, but I am sure I will learn more as I use it more.
Thanks Mike for posting this.
73, ac0f
Alan
That's great Alan! 
Yeah, it's quite the cool little doodad. 😎 And a fun project as well.
What kind of display did you put it on? Pics, man!
73, and keep the squelch loose.
Mike - AD0WB
September 1, 2020 5:16 pm
Looks awesome and that it would be a fun project!  Is a kit available or parts list and explanation of build?
73 N0RDE
Jon
September 1, 2020 7:52 pm
Jon,
I am not aware of any kits currently available. There was a pre-built unit some time ago, but it was stupid expensive.
As for a parts list, if building a Pi version I'd say plan on a Raspberry Pi, a way to power it, maybe a case if you'd like, and some sort of a display.
I used a spare keyboard and wireless mouse for setup. My build doesn't require a mouse for regular operation, as I went with a touchscreen display. But it's nice to have. YMMV.
Also plan for connecting the Pi to the Internet. The newer Pi's have WiFi hardware built in, so that might make connectivity easier.
I hope that helps point you in the right direction.
Good luck with it!
73, and keep the squelch loose.
Mike - AD0WB
This project is just what I have been idealizing about for a few years now.  It is on my short list of to-do projects.   Thanks fellas for discussing it and putting it on the forum!
73 Scott AK6Q