DEWALT Power Block
Topic starter
August 26, 2020 7:50 am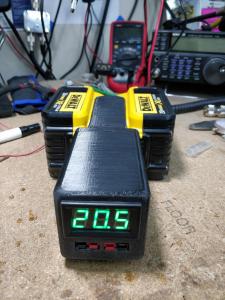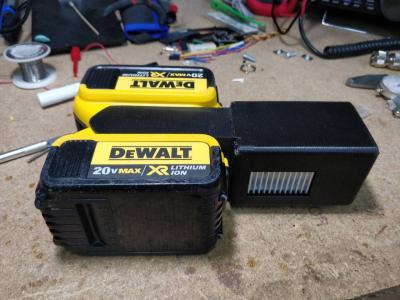 Yes I know one of the powerpoles is backwards - this was an early test-fit photo. 😛 
Credit for this one goes to Brian (K0FBS), who sent me a link to a ham who was using a DEWALT battery for 12V power. I initially poo-pooed the idea but it rattled around in my brain for a few days and I came to the conclusion I could do it better. Some napkin math made me realize I could gang two DEWALT MAX 20V batteries together and get nearly 14 amp-hours @ 13.8V out of a fairly lightweight package. Ideal for portable use, especially with my new FT-891 (see my blog for more 891 build adventures.)
Now obviously, this isn't exactly the cheapest portable power solution. MAX batteries are about $80 a pop. On the other hand, if you're like me and have standardized on DEWALT for cordless tools, you've probably got a few of these laying around. Ideally suited for radio use as they're specifically designed to dump a LOT of current fast. I can unload 5 amps from one of these in about 20 minutes with my string trimmer in the yard.
So with a scheme formulated I started hunting for parts. I knew I wanted real-time monitoring of the battery voltage as well as the current draw from attached equipment. There's no shortage of voltage/current displays on Amazon but I wanted something slightly unique - voltage on the input, current on output. Took some digging and wasn't the cheapest but I found one with a hall-effect pickup that did the trick. Also needed a buck converter to drop the 20V voltage down to 13.8. Bucks are notoriously noisy. I found one with claims of being reasonably RF quiet so I gave it a shot. Turns out it was, but it needed a little LC filter love on the output to squash some ripple. Honestly, most portable transceivers are designed for automotive use where power is anything but clean so you probably don't need this. I already had parts on hand so I added one anyway. After a little quality time in Tinkercad I was ready to print up a tidy case for this project.
That's when the wheels came off. Besides destroying the TP supply chain, this pandemic depleted the world's inventory of 3D filament. I'd used up all my reserves printing P100 filter covers for the Elizabeth Fire Department back in the Spring. I finally found some off-brand PETG on Amazon and thought, beggars can't be choosers... Turned out to be a bad mistake. After getting a couple mediocre prints out of the spool, my printer went into full-on revolt. Every print failed with a jammed nozzle. There was some weird crud inside the filament that was plugging up the works. I had to give up and table the project until decent filament became available.
About a month later I finally got an in-stock alert from Printed Solid, my preferred supplier for 3D filament. I promptly threw a bunch of dead presidents at them and got enough nGen co-polyester to last me a couple years. After a complete teardown of the printer's hotend to get that nasty PETG out, I was back in business.
As luck would have it, final testing and assembly happened just days before my FT-891 arrived. I was super-pleased with the power block's performance. At a conservative 13-14 amp-hours, I could run the 891 all day at QRP levels yet the block had no issues at all dumping 13+ amps when called upon by a full-power transceiver. Final weight of the DEWALT power block? 3.3 lbs.
Anyway, if this project piques your interest and you'd like to make your own, or something like it, here's the STL files for 3D printing and the parts I used. If you standardized on a different tool brand than DEWALT in your shop, don't fret - this can easily be adapted to other tool batteries - just hunt around Thingiverse. I've seen battery connectors for Milwaukee and HF Hercules there. Probably others. 
Don't hesitate to give me a shout if you have any questions!
73, AB0L.
STL files:
Printed at .4mm x .2mm layer, 25% infill, no support, 3 perimeters.
BOM:
4 crimp spade lugs (male)
4 pieces 12ga solid copper (strip some Romex)
14ga stranded hookup wire
2 sets Anderson-style powerpoles

3µH high-current inductor (something rated for the current you expect to pull and low DC resistance)

Low ESR 180uF cap (16V or higher)

Assorted M3 cap screws and M3-0.5 Threaded Heat Set Inserts
Build tips:
Crimp and solder the spade lugs to short pieces of solid copper wire. Heat wire with torch and insert into printed sockets to set. Might need some re-heating to fine-tune contact with battery lugs. Once secured, solder 14ga hookup wire to the solid copper wires. Wire batteries in parallel (DEWALT batteries have internal circuitry to tolerate this.) Pay attention to polarity! Since one battery is "upside down," it's reversed.
Wire meter power leads to "IN" terminals of buck converter along with the ganged battery feeds. Wire Anderson power poles to "OUT" terminals of buck converter. Don't forget to feed the + wires through the current sensor ring and mind the direction so you don't get negative values.
Bench-test everything before assembly. The buck converter can do constant voltage and constant current. We want constant voltage, so set the current pot to max, then voltage to 13.8V. Be aware of your multimeter's limits if testing output current. Mine tops out at 20A and this setup readily exceeded that.
I like to use a long piece of threaded rod to mount heat set inserts, heating them with a heat gun. Much easier to eyeball alignment than with an iron.
Prepare to cuss a lot. The fitup is tight. You might want to resize the case a bit longer in CAD.
Warnings: There's no fuses here - no room and I didn't want to have to disassemble the case to ever replace one. All my output cables are fused anyway. You may want to consider your build differently. There's also no battery drain protection. DEWALT monitors battery voltages from the tool, not the battery. I considered adding a voltage cutoff circuit but decided simpler was better, plus I can always see the battery voltage on the display. As long as the voltage doesn't go much below 15V, it's fine. Run them dead though and you've just bricked $160 of DEWALT batteries, so fair warning. I also didn't do an on/off switch. I just yank the battery packs when done. There is an off switch on the buck converter that could be demounted and wired to an external switch, if you like.
AB0L (Formerly N0KAI)
-----
Kenwood TM-V71A, Kenwood TS-590S, Icom ID-4100A, Yaseu FT-891, TYT MD-UV380, TYT MD-380, Kenwood TH-D7A, BTECH UV-5X3, µBITX V5, µBITX V4, QRPGuys 40/30/20m DSB Digital Transceiver
Topic starter
September 10, 2020 6:35 pm
Quick update / reconfirmation of the warnings...
So I ran my Power Block down while playing with my new Icom ID-4100A from the comfy recliner. Took nearly 4 days but my new toy ran the pack dry and I mean REALLY dry. I well know that Lithium-ion batteries have a very flat discharge rate until the very end but I didn't fully appreciate how quick the "end" comes. One minute the Power Block was reporting 16V, and five or so minutes later, it was down to 13V! Not good. 15V should be the absolute minimum (3V x 5 cells). That is about where DEWALT tools cut off and the pack shows no lights when the battery test button is pressed. Fortunately, both packs charged back up but that's definitely not healthy for Li-Ion batteries. I may have to reconsider that 15V cutoff circuit addition.
AB0L (Formerly N0KAI)
-----
Kenwood TM-V71A, Kenwood TS-590S, Icom ID-4100A, Yaseu FT-891, TYT MD-UV380, TYT MD-380, Kenwood TH-D7A, BTECH UV-5X3, µBITX V5, µBITX V4, QRPGuys 40/30/20m DSB Digital Transceiver