Topic starter
July 13, 2021 10:10 pm
Need some help.  I'm having a devil of a time getting my new dual band antenna to tune on my FJ Cruiser.  I've used a VNA to check the cable and the cable checks good.  I was able to get the SWR down to 1.7 on 2m.  Not, great but should be usable.  I can hear great, but no one can hear me when I transmit.  I know it could be an antenna issue as well,but hoping that's not the case.Other than grounding, is there anything else I could be missing?
Cameron, I hope to help you out, but I think we need a little more information.  What is the Radio and antenna you are trying to use?  Where are you at when you transmit and are you trying to use the repeater or just simplex to another close radio? 
73
Elecraft KX2 KX3 K3, Icom IC-705 Yaesu FTD3, VX8
Topic starter
July 15, 2021 6:12 am
Morning Scott.  The radio is an Anytone 787, antenna is the MFJ 1414 dual band.  Its mounted on a Bandi mount which replaces the hinge cover on my FJ Cruiser.  I've tried simplex and repeaters with no luck from my driveway, but as soon as I swap back to the mag mount I'm good.  So radio and location aren't the issue.  That leaves me with either the feed line, the antenna or both.
Howdy Cameron!  Can you send photos of your antenna installation as well as where you are mounting the mag mount antenna.  My best guess is that your mounting location(s) are what are affecting your antenna(s) performance. In the perfect world your antenna is centered on top of a metal roof allowing for the best ground plane with an unobstructed radiation pattern, meaning the antenna is not near any other surfaces higher than the base of the antenna. If your new MFJ antenna is not in  this ideal location everything become compromised, and can be detrimental to the performance of the antenna.  
If you are close to the north end of Parker, I am happy to look it over and I have another ham visiting that has a truck with a 3/8 stud mount we could try your antenna on and see if it makes any differences.  
73
Elecraft KX2 KX3 K3, Icom IC-705 Yaesu FTD3, VX8
Topic starter
July 15, 2021 12:03 pm
Sounds good. I'm pretty close to the north end of Parker (Smokey Hill & E-470).  Have you seen Justin's (AE2L) antenna mount?  Mine is in the same place.
I'm at work and can't take any pics at the moment, but here's some for reference:
Here's a pic of the antenna mount.  Its steel and I'm using a 3/8-24 stud mount for the antenna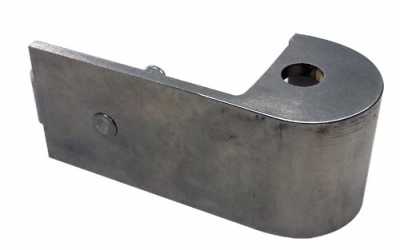 Here's how it mounts to the FJ: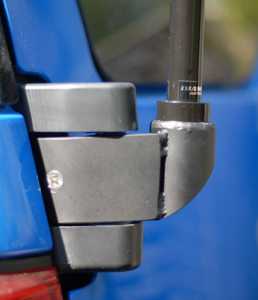 And here's its location.  Its overall higher, than the mag mount, but its attachment point is significantly lower.  My mag mount is a Tram 1185 and is pretty much dead center on the roof.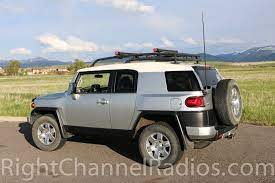 Does that help?
Cameron
I would suggest doing two things..... one is try another radio on the installed antenna and the other is to try the antenna on another mount.  My buddy took his truck in for a repair today and hope to have it back tomorrow so we can try it there when it comes back. 
I have radios that we can put in and try on your installed antenna if you like?
call me Sevin14 nine04 one097 cell 
Elecraft KX2 KX3 K3, Icom IC-705 Yaesu FTD3, VX8
Cameron, if the tx problem turns out to be that radio, I think it's still under warranty.  
Randy. KØTNG
Cameron were you able to resolve this?
Elecraft KX2 KX3 K3, Icom IC-705 Yaesu FTD3, VX8
Topic starter
July 22, 2021 9:01 pm
Haven't had a chance to do any more troubleshooting.  The radio is fine.  Hooked it back up to my mag mount and have had no issues since.  The cable checks good for continuity and the nanoVNA shows it to be at the right length.  So my only conclusion is that the issue lies somewhere from the end of the feedline to the antenna.  Could be the mount, grounding, the antenna or a combination of any or all of them.
I would just use the mag mount until you can replace the cable for the other antenna.  Also, if you are using any of those 90 degree so239/pl259, they are notorious for internal shorts.  I have had 3 new ones shorted right out of the box.
Randy
Topic starter
July 23, 2021 1:47 pm
@Randy I think I need to try a different antenna.  The cable is fine.  It could be the antenna, grounding, location, mount or some combination of them.
I've got a mag mount that will takes the 3/8x24 antenna, so might try that and see what happens.  If I can get the antenna to tune on the mag mount then it eliminates the antenna as the issue leaving me with grounding and location as the culprits.
September 11, 2021 10:34 pm
Cameron,
Did you get a chance to figure the antenna set up? I would say grounding is one of your problems. The other is possibly separating the antenna base from the mount, a little as well. Nylon washer....have the energy go to the antenna (coax to antenna) not the mount. I would install a bonding strap from the mount to the nearest frame portion: from the mount. I could be out to lunch. But you mention the transmission is not going out. That's the energy not getting to the antenna. Do you have a way to see watt output from the radio? Or draw. I bet its up there.