Shari Allstar node
Topic starter
June 28, 2021 3:26 pm
My Shari Allstar VHF node is up and running.  I got the kit at https://hamprojects.info/shari/   for around $73 shipped.  It took about 3-4 weeks to get the kit.  It comes in multiple versions including UHF, VHF and versions for Pi 3 and 4's.  I got the Pi3VHF version.  The Shari connects directly to a Raspberry Pi (not included) and runs entirely on the 5v Pi power supply.  The node runs the Hamvoip software.
The excellent documentation is available on Groups.io/g/shari in the notes section.  The kit is very easy to build with only 8 pass thru solders and one large castellated surface mount radio unit.  Basic soldering skills are all that's needed.
The hamvoip setup is well documented.  I was up and running without too much difficulty using the recommended settings.  However, I had poor Tx audio quality and had to adjust several settings in the SA818 software and the Simple USB Tune menu to optimize the audio.  I can give my settings to anyone interested. The optimized settings I used the settings here:   https://groups.io/g/SHARI/message/1311
 Overall it was a fun, easy build and seems to be stable and working with excellent audio quality.  It is about 100 milliwatts output and gets slightly warm without fans.  My Motorola 1250 Allstar node has been rock solid but requires significant fan cooling.
I am using the web based Supermon 6.2+ software to manage both nodes and it is highly recommended.
If anyone has questions about setup or settings, let me know. 
Enjoy,
Brad, AB4BA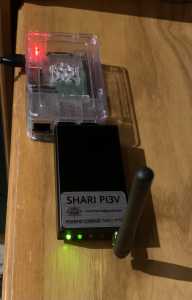 Topic starter
June 28, 2021 5:33 pm
FWIW, my Shari node is 546241, 145.650, tone 103.5.  My Motorola node is now 546240, 145.750, tone 100.0.  I am using the miscellaneous and experimental modes frequencies from CCARC for 2 meters.
I would be interested if anybody has some interesting nodes/nets from Allstar.  A few I have discovered are node 2021, G7RPG HUBnet from the UK that is frequently active.  W6EK, node 51018, has an excellent daily net, The Coffee Break Net from 0830-1100 am Mountain time.  The Alaska Allstar Hub, node 29332, has the Alaska morning net at 11 am M-Sat.
AB4BA