Power Line Noise Diagnosis and Repair
Topic starter
October 19, 2020 6:16 pm
Normally, HF conditions in the mountains are pretty quiet. Recently, background noise increased and it was pretty ugly. The time had come to search out the source of the interference.
Here is what it looked like on my Icom IC-7300. Yuck.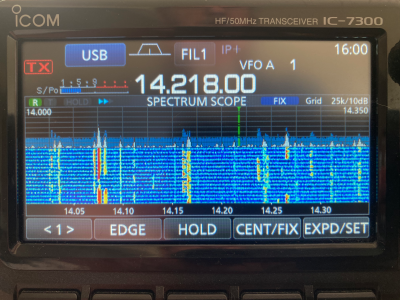 Off I went with my Yaesu FT-60R HT and a directional Arrow antenna. You can really hear the interference on AM, and the beam antenna helps localize the source. As it turns out, it was right there on my own power pole!
A call to the local power company had a service call scheduled the next business day. Unbelievable!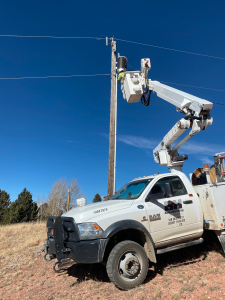 The tech reworked all of the connections at the pole and transformer. He rebuilt the neutral/ground connections, tightened all the connections on the transformer, and snugged up the hot line clamp (I think this may have been the primary culprit, that clamp had worked itself pretty loose).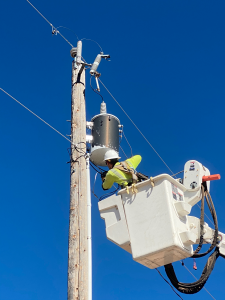 Neutrals & Grounds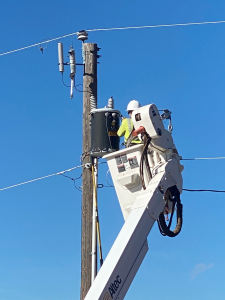 Transformer Connections
Tightening the Hot Line Clamp
The results were amazing. Check out the S meter readings in the earlier noisy photo, compared to below. What a difference.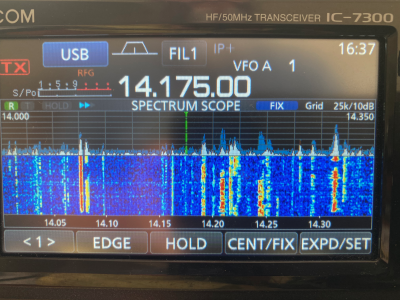 The next day, I worked JW/LB1QI Erwann in Svalbard on 20 meter voice! Super cool!
Very happy to have the interference gone. Hat's off to Black Hills Energy for their fast response in addressing the issue.
73, and keep the squelch loose.
Mike – AD0WB
Nice write-up!!!  Really good to see the local utility jumped right on it.