20M "end fed" dipole from RG58
Topic starter
May 28, 2022 10:22 am
I have a 1st attempt at building the 20M dipole from coax, described by A5DX - Phil Salas, in the May 2022 QST. This the antenna I posted about, a while ago. Not 100% finished, as the next step is to find a spot to hang it up and check the SWR. Once that's done, I'll do a little more sealing up at the joint between the coax and the wire, as recommended by Phil.
I decided to put the choke on a platform, since I wanted options for using a line to hang it up, and also take strain off the BNC connector. I might look at some strain relief for the coax as well.
I used a Vishay 561R series NPO class 1 ceramic, instead of the mica cap in the original plan. I think the ESR will be acceptably low. If I can get my hands on an ESR meter, I'll measure it.
So far, the one thing I'd do differently is leave some of the center insulator hanging out the end where the long wire attaches, just because it'll be a little more neat. I don't know whether it matters for the performance of the antenna, but I guess I'll find that out, if this one is a dud.
If anyone has a nice backyard spot where I can get this up in the air, I'd appreciate it. e-mail is my call at arrl.net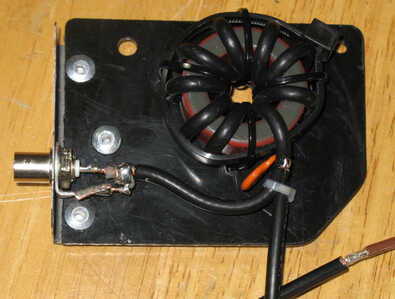 Topic starter
June 21, 2022 7:29 pm
Figured I'd do an update. I don't have the low SWR that Phil - A5DX showed in the QST article. I found a low dip in the SWR above the 20M band, and was able to move the dip down to 14.225 by soldering more wire to the end, but the reactance is inductive, so I don't see how I can both move the dip down by making the wire longer, and lower the SWR, since a longer wire adds inductance.
My RF Elmer, Bill - N0CU, has suggested try to tune the antenna (X=0) to resonance. Adding another foot of wire is no big deal, but I'm dubious. Maybe I'm misunderstanding the Smith chart. The printed charts I have indicate the top half is inductive.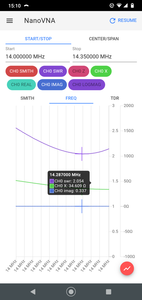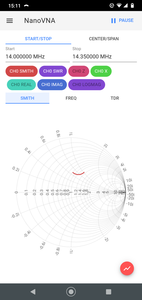 Added: Curiosity got the better of me. Initially, I had thought I wouldn't worry about the VF difference between the coax and the wire, especially since Phil - A5DX posted that nice SWR plot. But I just looked up the VF for the JSC 3110 RG58 coax that HRO sells, and it's 66%, which is quite a difference from the assumed 95% for plain braided wire. Thus, it would seem that what I've built is an overly long off-center fed dipole. That doesn't fully explain things, but it implies that the coax shield, past the choke, should be 11'5.5" long, rather than 16'6". I'll likely test that out this Saturday.
Topic starter
June 26, 2022 12:04 pm
Another update...
I was wondering about VF on the outside of the coax, and it turns out that it's the same as insulated wire, i.e. influenced by the jacket and air, nothing else, so it's the same as plain wire, about 97% +/- a little. That means that the length of the shield, past the capacitor, should be very close to 16'6", in keeping with the std. wire dipole formula. Interesting article, about other things too, but shows the VF of the outside of the shield: https://www.hamradio.me/antennas/coax-velocity-factor.html
I started to wonder whether the metal bracket and BNC connector I used had any influence. So, I removed that, and put a clamp-type BNC on the end of the coax. This made only a very small difference, which might also have been caused by minor differences in how high up the tree I got it, humidity 😜 , phase of the moon... and I tried lowering the end a little, which did lower both the SWR and the low-point of the dip. But, not to the point of usable without a tuner. Lowering the wire a bit makes sense, since that should add some capacitance (to ground), cancelling out the excess inductance.
Anyways, since I've now made it difficult to return to where I started with this one, I'm going to go back to scratch, and build it exactly as Phil did, with the long coax tail-end. I will make the antenna a little too long, and hope to trim to a nice SWR curve. If that doesn't work, well, I don't know. 🧐 
Gotta order parts, since I'm unhappy with the BNC bulkhead connectors I got. I think I want to use "rear mount" panel connectors for builds where I'm putting BNC in a panel. That way, I can attach the connector and push it through the panel from the rear, rather than attach it from the front and try to then solder and tighten the nut in close quarters. I need some extra RG58 BNC cable-mount connectors too.
Not sure when I'll get back to this. Gotta do some work on my decrepit Focus, and then there's the PPRAA Megafest coming up.
Topic starter
July 14, 2022 8:24 pm
This antenna has me stumped. I built v.2 and made it a bit longer, and then wound up adding about another foot to the wire part. With the MFJ 259C analyzer, I found I could get the SWR below 2:1 across the band by moving around under, beside, etc., but of course, not the whole band from one place. I didn't get the same results using the NanoVNA. FWIW, my deployment is pretty close to what Phil - A5DX described in the QST article, i.e. sloping up from the transmitter end to a high point in a tree. I was probably a little higher up.
This is consistent, I guess, with the known characteristic of dipoles being influenced by height above ground. But it doesn't leave me with a clear path as to how I might build a 3rd try. My only thought is that I'd like to get it up higher, or build v.3 even longer, and then use a trim cap if I need to. However, in v.2 of this antenna, the reactance is already capacitive, despite it being longer. So, I can't be sure that getting longer again will switch it to being inductive. (Recall, that v.1 had inductive reactance, despite being too short.)
It's just curioser and curioser. I've never been of the mindset of chasing resonance, and this just confirms it. Hey, whatever floats yer boat, but I think using a tuner is just fine. 😎 I'd like to find a Z-match that'll handle more than 15W, otherwise, the Emtech Z-2 would be my choice.
Topic starter
July 20, 2022 10:00 pm
After more cogitation, I've realized that part of what I was seeing that had me stumped was simply feedline transformation. If you don't know what that is, the short version is that feedlines act as impedance transformers. SWR stays the same, but the components of the impedance vary with feedline length. I can point people to a couple places of interest:
Transmission Lines as Impedance Transformers by Bill - N0CU (PDF) - as usual, the slides don't do justice to the presentation
Basics of the Smith Chart by Alan - W2AEW (YouTube)
I really want to get better at using Smith Charts.
Despite the interesting construction, this antenna is still fundamentally a dipole fed directly with coax. As such, all the usual dipole considerations come into play, such as height above ground, and proximity to other things, such as the operator. The suggestion I have from Bill - N0CU is to add feedline such that the transmitter end is 1/2 wavelength from the feedpoint. I could come close to that, with a little computation, but I will probably not bother, since the behavior of this antenna is going to vary based on deployment method.
So, v.3 will simply be a slight rebuild of v.2, making it pretty similar to v.1, i.e. with the BNC connector right there at the choke, and only slightly longer. I'll just clip the feedline portion, and re-trim the wire end so that it matches the shield length, which is just bit on the long side for a "correct" wire dipole.
Topic starter
August 4, 2022 6:46 pm
Here's the final build. No, it doesn't have the nice SWR curve across 20M that A5DX got, and I've decided that spending more time on it will be not very rewarding, or useful. I've never really been one to chase resonance, or really good SWR, except on homebrew 2M, where I don't expect to be ever using a tuner (although they do exist). Might be, if I could toss this up in Phil's back yard, I'd get results quite close to what he got. 🤔 
One thing I did figure out, and I don't know whether this was intentional on his part, is that the 5 feet of coax he has from the choke to the antenna connector for the radio, combined with the coax in the choke and first half of the antenna, are very close to being 1/2 wavelength at the 20M band center. If I'd spent a little time figuring the numbers, I'd've realized that much earlier, and possibly saved a little grief. The significance of this is that it means that an analyzer is going to read very close to the correct numbers for the antenna's actual feedpoint.
So, that's interesting, but not all that relevant for me, since I prefer my build which has more support for the choke, and easier ways to change how it's deployed. So, here it is.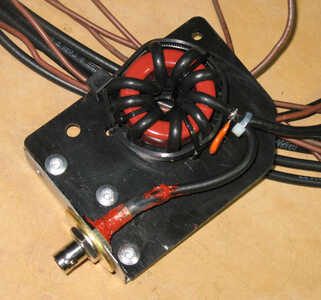 And, here's the other end.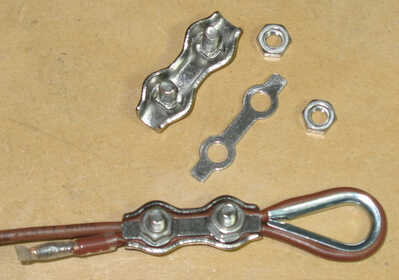 Those nifty "figure 8" wire clamps are available on eBay, from Nelson Antenna. The metal thimble inside the loop is from Ace Hardware. The 2mm size clamps are just barely big enough for 18ga wire.
From the NanoVNA: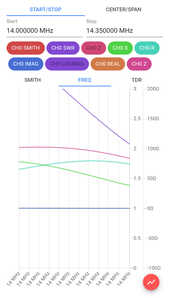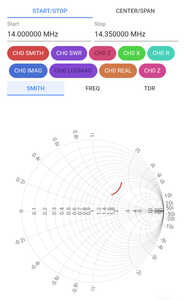 The Smith Chart plot is rotated about 1/8 wave off (in the direction of shorter feedline) from what's at the actual feedpoint. In the frequency plot, the top line is the SWR curve, and you can see that it doesn't go below 2 until somewhere above the 20M band. I did make this antenna just a bit on the long side - my original intent was to trim, but my testing has told me that it's a crapshoot to do that. So, I'll go with the theory that in some configurations, it probably has a better curve. But a low-cost tuner to pair with it is now on my list. Of course, I can use a good manual tuner for other antennas as well.
Yes, I need to go refresh on whether adding feedline makes the Smith plot rotate clockwise or widdershins.