Fusion Repeater move and WiRES-X Intermittent Down Time
Topic starter
August 6, 2020 12:21 pm
We are very excited to be doing the final preparations for the Fusion Repeater and the WiRES-X Equipment for the move to the Hollywood Hills site in East Parker. 
For today and during the next few days the  COLORADO-MEGA WiRES-X Room only will be down at times.  The Fusion link and the rest of the Colorado Mega Links, DMR, and DSTAR will be fine and will not be affected. 
In our configuration, the room goes where the repeater goes.    We'll have the WiRES-X equipment plugged in as often as possible.  Meanwhile is there anyone in the group, preferably a PRA member who has a Yaesu HRI-200 and has a WiRES-X room we could borrow?  Not the device, just the room we could use as a backup?  
Node 30895 K0PRA-RPT   447.225 mhz
WiRES-X Room 40895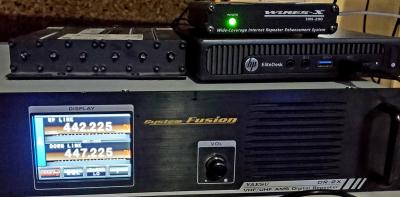 73 de Bill WØSUN
w0sun.bill@gmail.com
Topic starter
August 6, 2020 3:15 pm
When the COLORADO-MEGA Room is down,  our temporary WiRES-X room will be Room # 43444 "KC8I-ROOM".  I will connect it to the COLORADO-MEGA Reflectors.   It's an easy room to remember.  "43444".
Thank you to Lyn KC8I in Woodland Park for loaning his room. 
73 de Bill WØSUN
w0sun.bill@gmail.com
Topic starter
August 26, 2020 9:32 am
REMINDER:  While we are moving the Yaesu Fusion WiRES-X Repeater to its new home the ColoradoMega WiRES-X room will be unavailable at times.   
But you can still connect to the ColoradoMega Reflectors by joining room 43444 "KC8I-ROOM".  This is where the temporary link to the world will be.  
Thank you Lyn, KC8I.  
73  Bill
WØSUN
73 de Bill WØSUN
w0sun.bill@gmail.com