Xiegu X-6100 SDR QRP Radio w/Carry Bag - MINT
Topic starter
July 4, 2022 9:15 am
Up for grabs is an absolute MINT Xiegu X-6100 with all the original accessories, packaging, PLUS a carry bag. I've used this radio solely in the shack and being the radio it is, it deserves to be used while hiking, camping, or as a great backup rig. It has the latest firmware on it and firmware updates are regular and frequent through Radioddity. 
This is a great SDR QRP radio (10W max w/12V) that has a bright and colorful waterfall display. No tuner, no problem. There is a tuner built in that can tune a paperclip. All you'll need is some coax, a wire antenna and you're on the air.
This radio is so minty fresh, it still has the screen protector on it. As an added bonus, the 12V cabling already has Powerpole connectors on it.
Price is $550 CASH/PAYPAL F&F, VENMO. Questions/inquiries to Dan via email at N2SRK at PARKERRADIO.ORG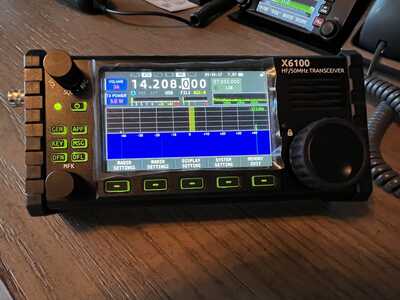 This topic was modified 1 month ago 2 times by
Dan Grady