Moving Sale
Topic starter
July 8, 2022 11:23 am
PRA peeps get discounted 1st dibs before these go on QTH next week...
Icom ID-4100A 
My truck radio since the PRA D-STAR blowtorch repeater went up on Squaw. I'm entering the land of no D-STAR so this puppy needs a new loving home. Perfect in every way, includes original box and all accessories; even the infamous "not included" Icom mounting bracket. Anderson powerpoles installed on power cord. Only thing missing is the manuals, which pulled that disappearing act that all manuals seem to do. $200 SOLD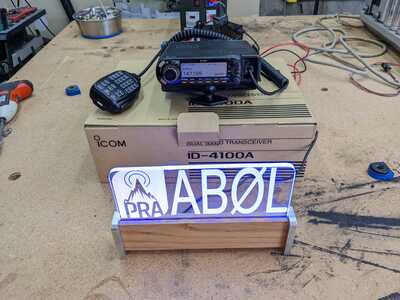 Kenwood TS-590S
Love this rig but as more and more of my HF operations became portable (and I needed the bench space in the shop) this rig ended up spending most of its time in the box. Includes a Kenwood MC-60 desk mic (these run over $100 on eBay themselves) *and* the increasingly scarce VGS-1 voice module (about $150 when you can find them) that provides voice announcement of operations and voice recording capabilities. Built-in tuner is unable to find tuning solutions on 17 and 15M bands. My off center fed dipole didn't cover those bands so it was dumb luck I discovered the problem one day while playing with a dummy load. Otherwise, the rig is in excellent condition and happily puts out the full rated 100 watts. Priced accordingly with this defect in mind. I'm sure the Kenwood Service Center could fix the issue right up, but I never got around to sending it in. I did visually inspect the tuner circuitry and didn't find any obviously blown caps or inductors. The tuner relays are soldered so I wasn't able to test them; I suspect that's where the issue lies. If you're not interested in the desk mic or voice module, unload those on eBay, pick up a Kenwood hand mic and you'll be rocking one of the finest HF rigs ever made for a song! $450 SOLD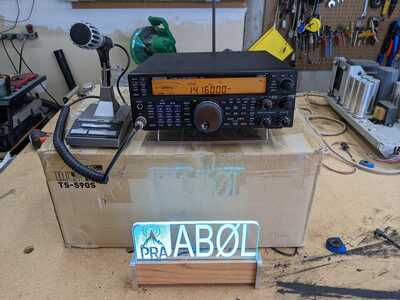 Reply here or you can find my digits in the club directory.
73, AB0L.
This topic was modified 1 month ago by
AB0L
AB0L (Formerly N0KAI)
-----
Kenwood TM-V71A, Kenwood TS-590S, Icom ID-4100A, Yaseu FT-891, TYT MD-UV380, TYT MD-380, Kenwood TH-D7A, BTECH UV-5X3, µBITX V5, µBITX V4, QRPGuys 40/30/20m DSB Digital Transceiver
Topic starter
July 9, 2022 2:09 pm
Motorola MICOR repeater power supply, model TPN1110B. Unregulated 13.8v at 25 amps for the PA deck plus 12v and 9.6 volts regulated. I inherited this from Ray, planning on using it as a rack DC supply but that's not happening now. Free to good home.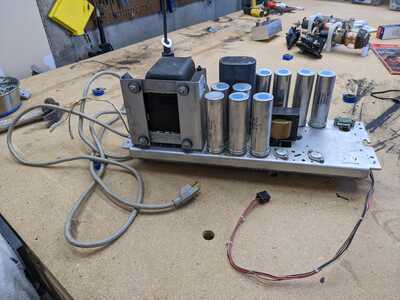 AB0L (Formerly N0KAI)
-----
Kenwood TM-V71A, Kenwood TS-590S, Icom ID-4100A, Yaseu FT-891, TYT MD-UV380, TYT MD-380, Kenwood TH-D7A, BTECH UV-5X3, µBITX V5, µBITX V4, QRPGuys 40/30/20m DSB Digital Transceiver
Full-size 42U server rack with rear door and dual power feed strip. You need this in your basement. I'll even throw in the Dell 1750 server, just in case your power bill is too low. Free to good home. CLAIMED