Fellow Ham Needs Help - Rohn 25G Tower and Traffie Hex Beam
Topic starter
January 11, 2021 8:20 pm
We have a former club member that is looking for a new home for his current Rohn 25G Tower and Traffie Hex Beam.  Both are still assembled and will need to be broken down.  Please see pictures.
This is a decent tower structure and you cannot go wrong with a Hex Beam (see pictures).
This antenna tower and Hex Beam are at a price you cannot beat.  First come, first served, free.  You will need to take both down.  It will require a cherry picker.  There is a local equipment rental location nearby, Clarks Equipment Rental in Strasburg, CO was where a cherry picker can be rented. Any interested party can can work through Donn, W0TK at this email, dsdrury1@gmail.com preferred, or phone at 720 324-3027. 
There is a time crunch in getting this finalized and completed by January 24th.  After January 24th, this tower and Hex Beam will be torn down and tossed, which would be a real shame.  If you're in the market for a small tower and great antenna, for the cost of a cherry picker rental, you can be set up.  Please reach out to Donn at his contact information above.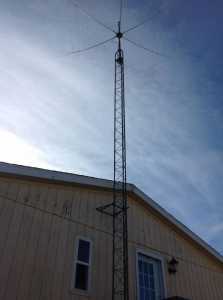 Dan I am working on getting the needed parts to take this down.