Field Day 2020 Planning Thread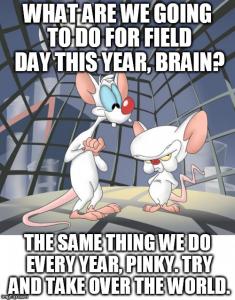 In the words of KB4SMK "Field Day is not a contest, we will win."
Of course planning this year is going to be a little fluid.  Colorado Campground current conditions are that they are closed until May 31st.  Hopefully we're not all going to be 1E this year.  So in the spirit of optimism, lets start laying out the plans.
73,
Robert
AE0CA
I was looking to setup a Winlink station for sending emails over RF if that is something the committee was interested in.  I can't remember what the point value is but I thought it was something.  
Ray, N0KEG and I will be working on logging computers. We have two, could use another two more (backups).  All will need to be available a week before Field Day to configure, test and network together.
Also, FT8 was great last year for 2X points for QSO's. We will need another digi station set up for overnight operators.
Educational activity will be on using an antenna analyzer.
Field Day Beer brewed!
Stay thirsty, my friends.
AB0L (Formerly N0KAI)
-----
Kenwood TM-V71A, Kenwood TS-590S, Motorola XPR4550, TYT MD-UV380, Kenwood TH-D7A, BTECH UV-5X3, µBITX V5 QRP
it was mentioned on the net yesterday that there are camping opportunities. can someone please elaborate on this, or direct me to the info?
thanks in advance
Michael
KF0AGE
Hey Michael!
First, welcome to the PRA.
I've asked the Field Day committee for content to build a Field Day page but in the meantime, you can find out more info about Field Day here. The PRA holds its Field Day ops at the Colorado Campground, just north of Woodland Park on Highway 67. Most come up on the 26th and the party's over by noon on the 28th. A few come up early on the 25th. For tent campers, there's plenty of room on the spots the PRA has reserved. Those with trailers need to grab their own spots. As of now, all reservable spots are taken for the weekend but Colorado Campground has a number of first-come, first-serve sites. I'm not 100% certain how those work but I'm sure someone here will chime in with details. The club spots are about 26-31. Many people just come up for the day Saturday and enjoy the legendary club dinner.
You can find the PRA Field Day sign up here. Hope you can make it - it's a real blast!
73, AB0L.
it appears ill just have to show up and see if I can get a first come first serve spot if I want to use my pop-up on my truck, otherwise ill have a small tent with me that I can possibly pitch in a reserved spot if available.  I look forward to getting more in-depth with the hobby...
good morning... from the Net last night, I was left with the impression that there was a place that we could see needs/signup for bringing food and other gear to the event. not finding that and feeling lost.  would also like to make sure that ill have a place to pitch a tent if I can get one of the first come sites they have.  I appreciate guidance on this...
@mjm1957 Signup link was in my previous post - here it is again. Tent campers don't need to do anything but show up. There's plenty of space for tents already. It's just trailers that need to make their own spot arrangements.
Hey all, here is an updated copy of the Field Day cheat sheet I put together last year.  Sections updated to include the new Prince Edward Island section for the lucky person that gets that one!  Includes our exchange, frequencies, N1MM references (thanks to Dan last year), and listing of all the ARRL/RAC sections with abbreviations.
Anyone planning on using FT-8 for Field Day needs to get the just released update to WSJT-X 2.2.2.  This is a bug-fix version to add the Prince Edward Island (PE) section to the Contest Mode messages for Field Day.  Someone has to get a PE over the weekend. 😊 
My 2020 Field Day post-mortem is up on my blog if anyone's really bored: Field Day Frolics
AB0L (Formerly N0KAI)
-----
Kenwood TM-V71A, Kenwood TS-590S, Motorola XPR4550, TYT MD-UV380, Kenwood TH-D7A, BTECH UV-5X3, µBITX V5 QRP