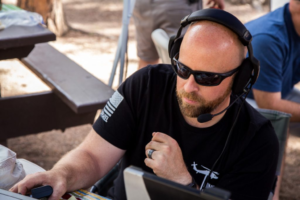 Every year, on the fourth full weekend in June, amateur radio enthusiasts across North America come together for an event that is equal parts fun, excitement, and community spirit. Known as ARRL Field Day, this 24-hour emergency communications exercise is one of the most highly anticipated events on the ham radio calendar, offering a unique opportunity to test skills, build camaraderie, and make connections with other hams from around the world. If you have not participated in a PRA Field Day, you're invited to be part of this amazing annual event for our organization.
At its core, Field Day is all about preparedness. During the event, the PRA Field Day team will set up and operate two HF stations and one VHF station using batteries, and other backup power sources to simulate the conditions that might arise during a real-world emergency. The goal is to demonstrate the effectiveness of amateur radio as a reliable and resilient communications tool, even when other forms of communication have been disrupted.
Field Day is much more than just a serious exercise in emergency preparedness. It's also a chance for PRA members to show off their skills and equipment, make new friends, and have a whole lot of fun. Whether you're a seasoned pro or a new ham just getting started, there's something for everyone at Field Day with the PRA. Even if you are not licensed, we can guide, coach, and mentor you to get on the air and make your first ham radio contacts!
One of the most exciting aspects of Field Day is the opportunity to make contacts with other stations around the world. Throughout the event, radio operators use a variety of different modes and frequencies to make as many contacts as possible within the 24-hour time frame. Even though it is technically "not a contest," competing against other clubs and individuals to see who can make the most contacts and earn the highest scores gives some fun and competitiveness to the weekend.
But even if you're not a competitive type, there's plenty of fun to be had at Field Day. The PRA has members of all ages and skill levels that can participate in activities like fox hunts (finding hidden transmitters), antenna building, and more. And with so many stations set up in close proximity, there's always a chance to learn something new and connect with other enthusiasts. Even family members that are not radio aficionados have fun in making new friends. We even have a close proximity to good fishing and some amazing hiking trails.
Perhaps one of the most rewarding aspects of Field Day is the sense of community that it fosters. Truly, the PRA is a family from all walks of life and backgrounds come together to share their knowledge, skills, and experiences, building friendships and connections that can last a lifetime. And with so many activities to choose from, there's always something new and exciting to explore not only within amateur radio, but Field Day.
In short, ARRL Field Day is an event that every ham radio enthusiast should experience at least once. Whether you're looking to test your emergency preparedness skills, make new friends, or just have a whole lot of fun, there's no better way to do it than at the PRA Field Day. So mark your calendars for the fourth weekend in June (23rd/24th/25th) and get ready for an unforgettable experience that you won't soon forget!
73,
Dan – N2SRK
President
Parker Radio Association